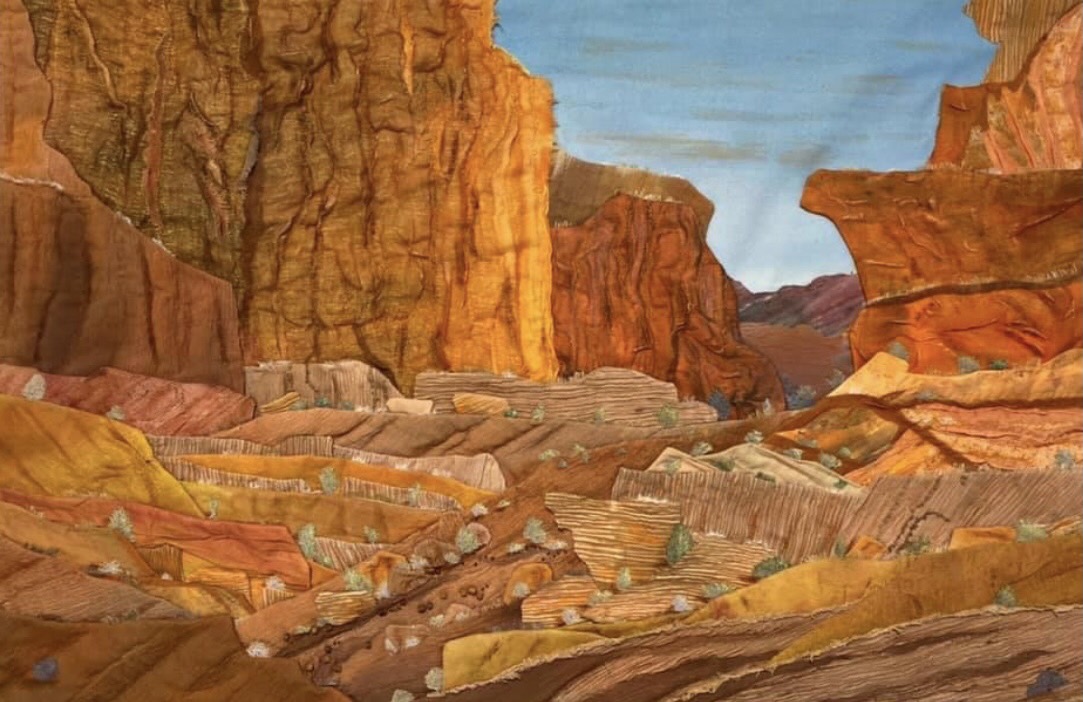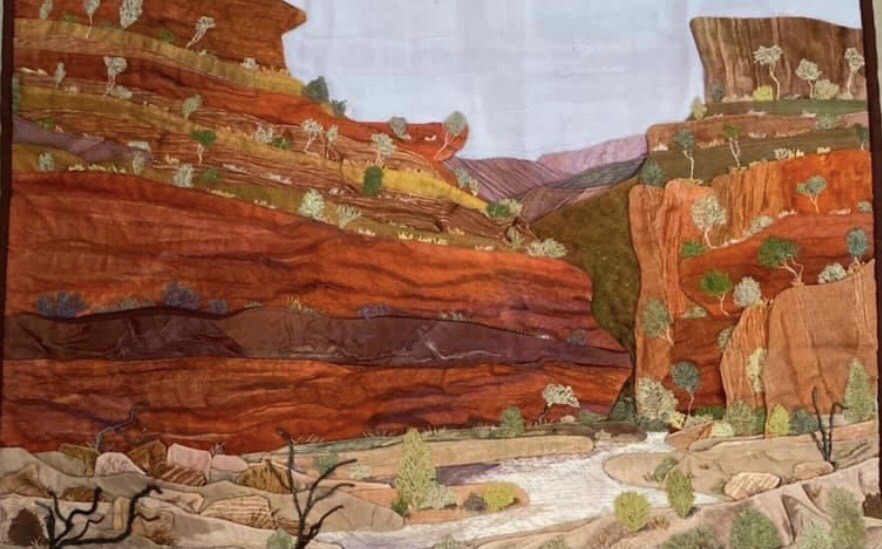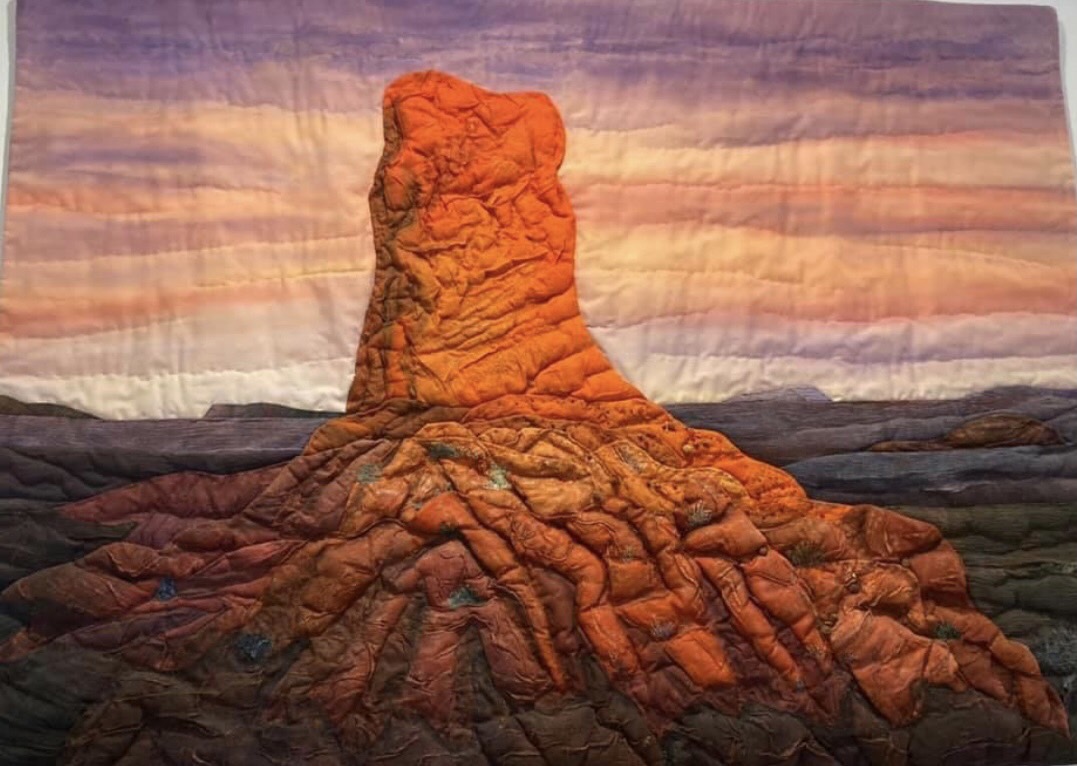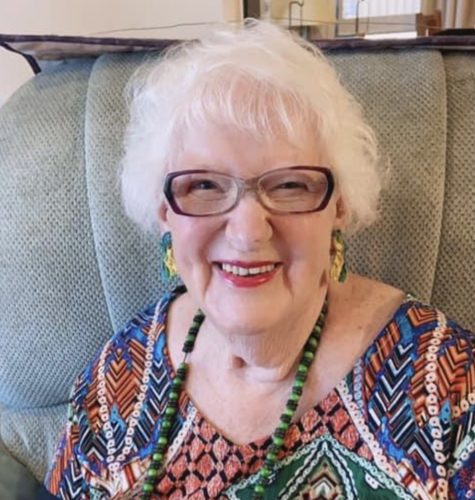 ELAINE  CAMPBELL(1937-)
Discovering the magical effects of dyes and paints on plain white fabric during my first class at Toowoomba in 1989, has taken me on my journey as a textile artist
My inspiration comes from memories of spectacular sunsets while living in Western Queensland, and more recently photographic tours of Australia.
Camping and sleeping out under millions of stars, my late ceramic artist husband Doug and I saw some wonderful regions of Australia.  The blue skies that seemed to go on forever, the incredible gorges and textures of the rocks, spinifex grass, shrubbery, all of these held a deep meaning to both of us.  Flying over the Bungle Bungles in North Western Australia, or some, fortunate enough to experience the wonder of camping and sleeping amongst these incredible land formations  –  millions of years old.  The rugged shore line near Broom, where the rocks of such vivid colours came down to meet the blue waters of the Indian Ocean on the west coast of Australia. 
The brilliant sun, setting over the water, or the after glow of the setting sun shining on the surface of Uluru, The Olgars and Chambers Pillar, all in Central Australia, just to name a few, creating such an array of changing colours in such a short time – truly incredible.
The colours and textures of our rugged inland landscape hold a fascination for me. While endeavouring to capture my impressions and feelings of a particular place and time and using a variety of painted, textured fabrics, hand and machine embroidery, many months can be spent in the making of my unique 3D art.
Whilst the spectacular colours of our outback have certainly been the most inspirational of my work, the opportunity to participate in several textile workshops has also helped in my development as an artist.
These past thirty years have been an exciting time in my life, with some of my art pieces not only exhibited in Brisbane, Sydney and Melbourne, but also the United Kingdom and Japan.
Through my pictorial art pieces I hope to make people more aware of the beauty and ruggedness of our unique outback regions of Australia – to feel they are part of the landscape – to be sensitive to our fragile environment and to care for it.
 'THE INFERNO'
Composite media
103 x 73 cm
Like many thousands of viewers, I watched with horror the media coverage of the devastating bush fires that swept New South Wales during the summer of 1994. Those towering flames, meters high – houses burnt – people suffering – wildlife and national parks destroyed.
"THE INFERNO' was a personal, emotional response to such devastation and many tears were shed during the making of it. Layers and layers of dyed, frayed, manipulated fabrics were used to create the movement and rhythm of the flames. The dyed sky area was developed with a combination of appliqued dyed wool and a sprinkling of sparkling fabrics, with a layer of dyed nylon organza covering this. The shrubbery in the foreground was my first attempt at machine embroidery.
Even through the tragedy of these fires, we must stop and recognize the goodwill and camaraderie that united the firefighting operation unparalleled in Australian history.
POSTCARD FROM AUSTRALIA
Composite media
115  x 74cm 
Some years ago I was able to see and experience some wonderful regions of Australia while on a photographic tour.
The blue skies that seemed to go on forever, the incredible gorges, and textures of the rocks, spinifex grass, shrubbery, all of these held a deep meaning for me.
This art quilt is of no special place, but my impressions of our ancient land. All fabrics have been painted while machine embroidery, beading and trapunto quilting all add extra interest.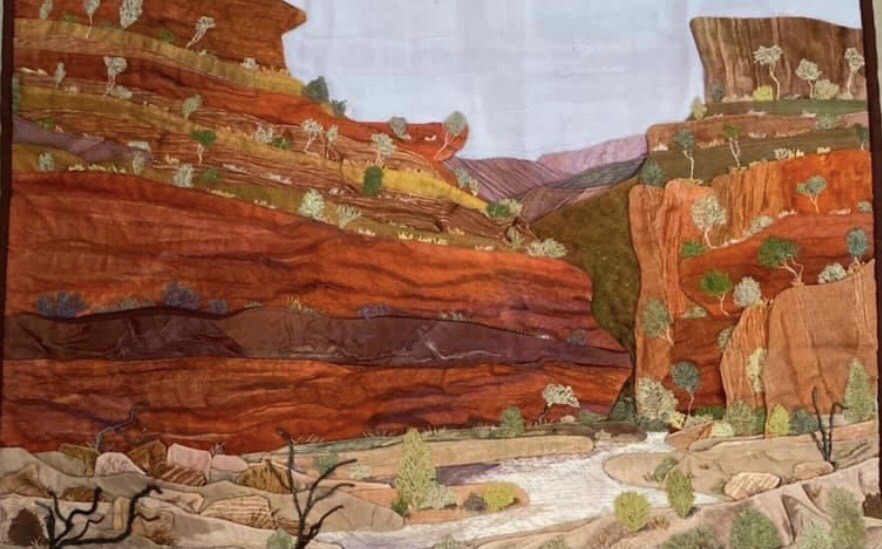 KIMBERLEY IMPRESSIONS
Composite media
102 x 73cm 
The Kimberley region is one of Australia's hidden treasures with an immense complex landscape that encompasses spectacular gorges, waterfalls and cave systems, pockets of lush rainforest and an astonishing variety of wildlife. Wild and wonderful, the Kimberley is one of the world's last great wilderness areas.
This art quilt was inspired by this area. A variety of painted, manipulated and dyed fabrics, machine and hand embroidery were used to create this landscape. To give the impression of the spinifex grass which grows in the area, small pieces of cream fabric were frayed and stitched into the joins of the fabrics.
CHAMBERS PILLAR – THE SILENT SENTINEL
Composite media
150 x 104cm
Rising over forty metres high above the surrounding Simpson Desert plain, and, like Uluru, is most dramatic at sunrise and sunset.
Situated south of Alice Springs in Central Australia, 350million years of wind and rain have eroded this sandstone formation which our famous early explorers used as a navigational point.
A variety of painted textured fabrics have been used to create this art quilt. Beading, hand and machine embroidery and trapunto quilting which I like to do to create the 3Dimensional effect in my unique Australian landscapes.