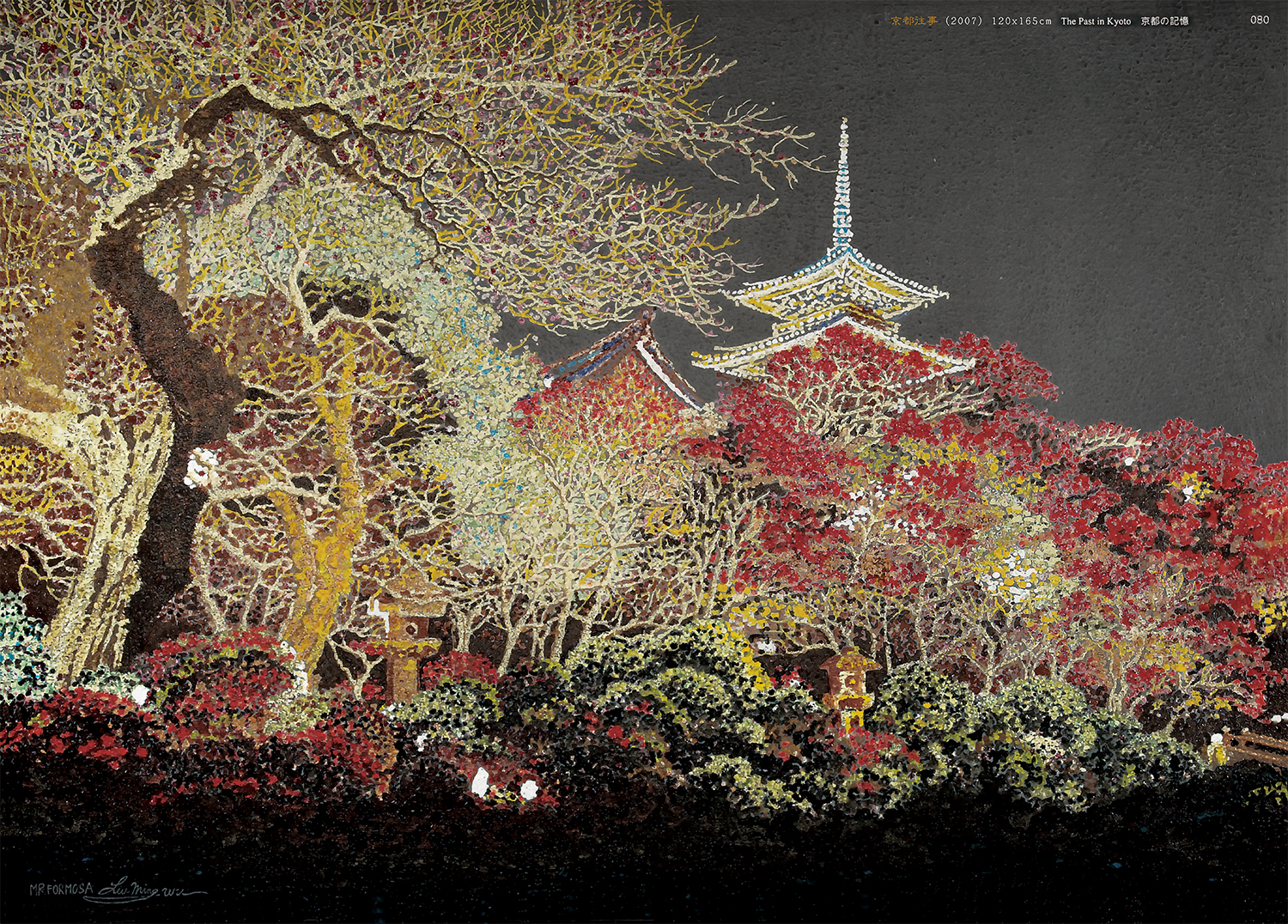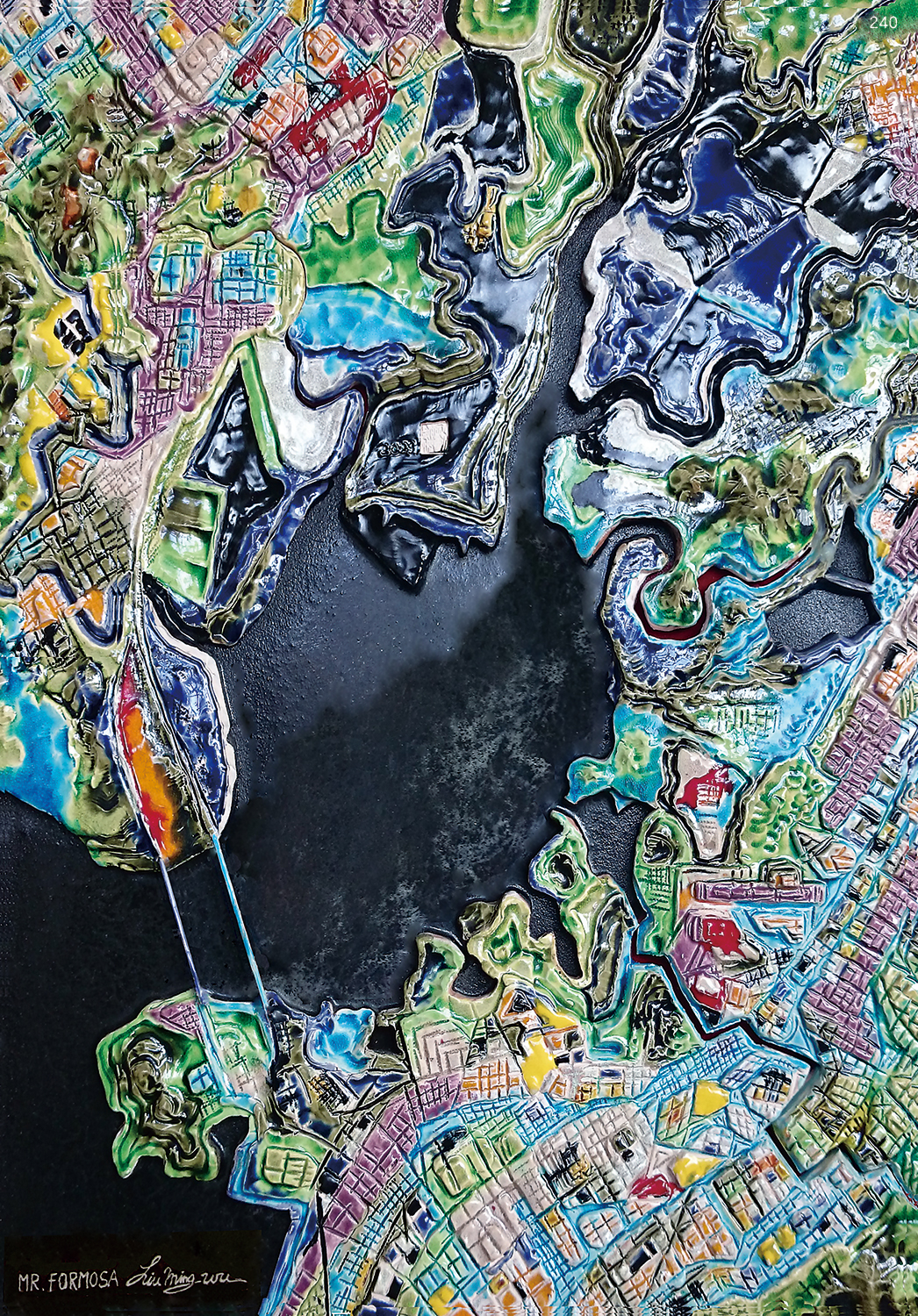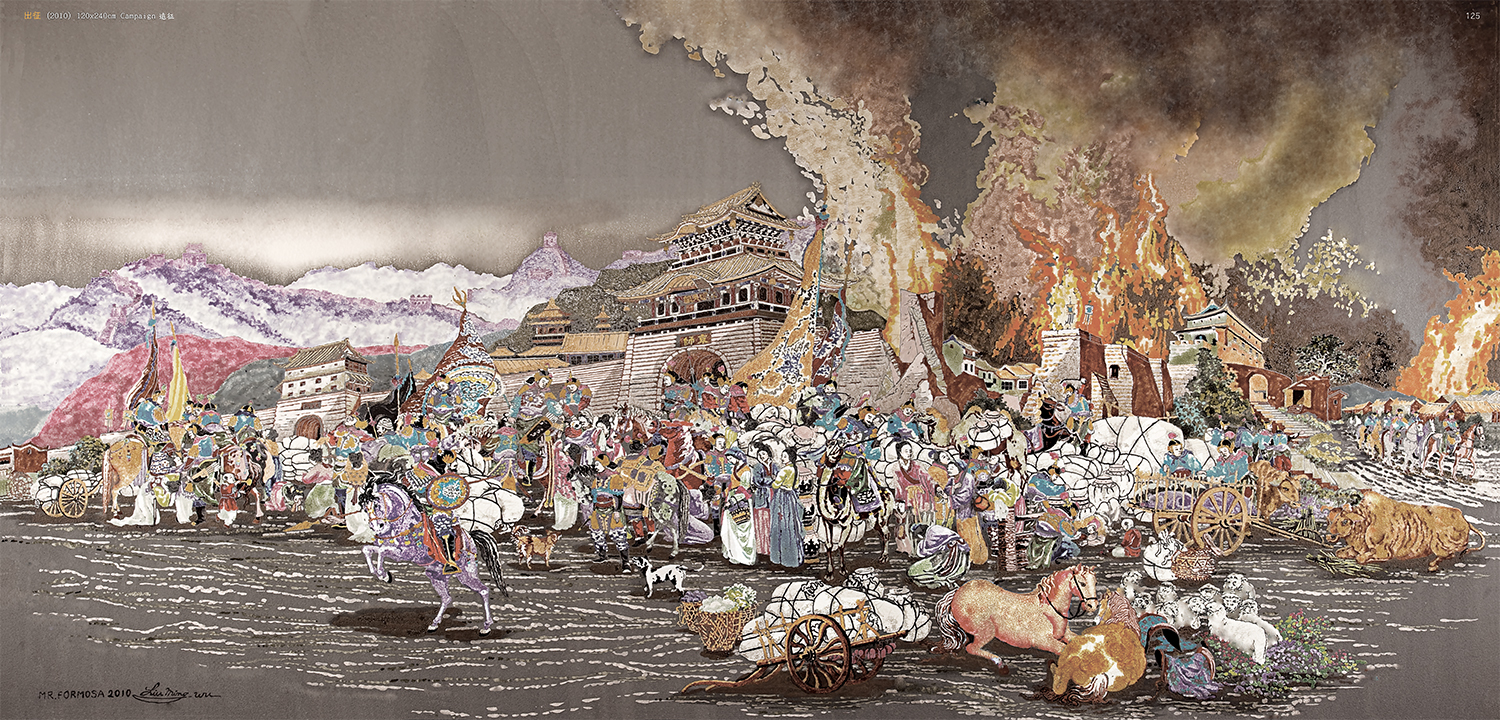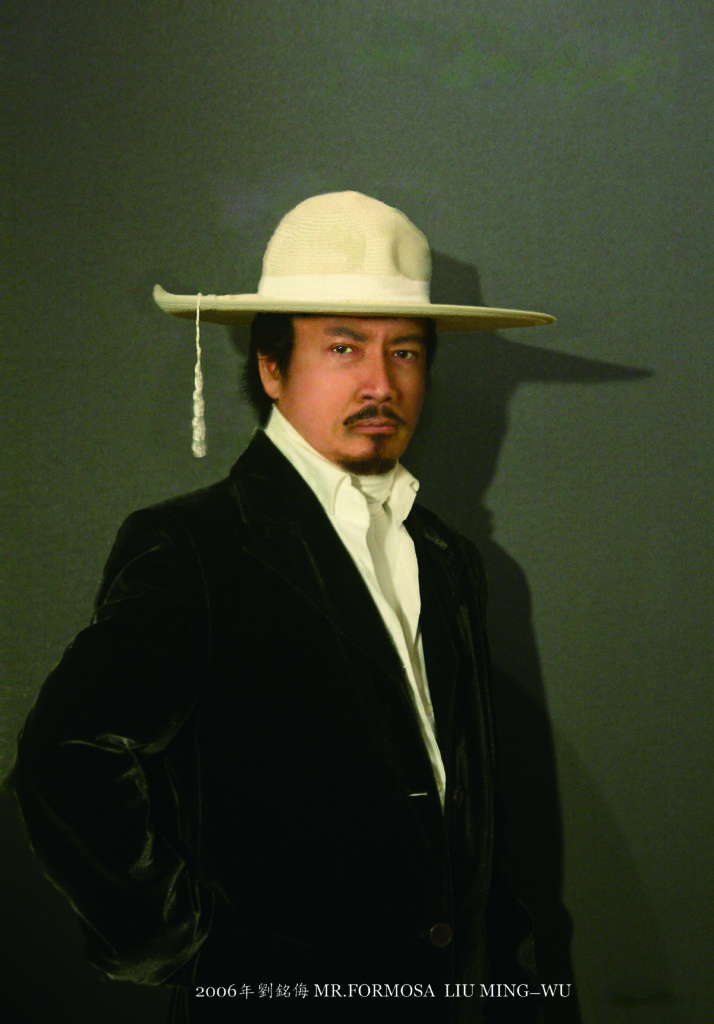 Liu Mingwu (1949-)
Liu Mingwu has been found great talent in arts since his childhood. He was able to draw without teacher's instruction and won the first place in art contest when he studied in primary school at the age of six. In terms of art crafts, and wooden and stone sculptures, he has shown more outstanding ability than any other. He had taken apart of part of a house and a pig barn, and used the material to build a little house under a big tree outdoors.
Out of his great passion for arts, Liu Mingwu leamnt the world most difficult realm of art, Taiwan's classic temple architecture. He became a student of the renowned master of temple building in Taiwan, Lin Wenhsien. He firstly learnt for the master's son, Lin Dengchuan of "cut-and-paste art".
Liu Mingwu met his wife, a daughter of a Christian family, in 1977. This has great influence on the rest of his life. He then has become an elder in the church and been invited to preach all year round because of his eloquence. In 1982, Liu Mingwu developed the Jiao Zhi pottery of temples to be art works. An incident happened when he exported them from Keelung Customs which caught media's attention. The Customs withheld those he was going to export and accused him of trafficking national treasure. His works were then sent to National Palace Museum and they were identified as very important national treasure which should be prohibited exporting. Liu Mingwu had been very sincere as a Christian and ignored any attack or scolding. He neither fought back nor attack but praised his counterpart as his response. Finally, these organizations realized the fact and admired his tolerance, and gave him the title of 'Living National Treasure" as the happy ending.
A blessing came in disguise. Liu Mingwu became more well-known because of this incident but he then encouraged himself to study harder. He travelled around the world with the supports from the church and has been even more cultivated in twenty years. He started trying to create. Firstly, he broke through the set pattern of art crafts and improved the traditional Jiao Zhi pottery to high-temperature jewel pottery, which earns him much positive response and acclaim. He has held many huge exhibitions in Taiwan's museums, cultural centers, and Taipei City Art Museum. Many countries also invited him to preach along with exhibiting his works. These all keep earning him very good reputation. The President of Argentina praised him as "Eastern Michelangelo" and gave him an Honorary Doctorate Degree of Philosophy of Arts. He is also given the title of Mr. Formosa by the media of the U.S.
Chronology
1949

Born in Yong Jing the hometo own of flower, in Changhua County, Taiwan.

1964

Started learning from a great master Lin Wen-Hsien about art of temple architecture.

1965

Started to make Jiao Zhi pottery.

1976

Won the first the place in Taiwan's National Classic Art Design for Architecture Contest and was listed in the top ten Taiwan's temple architects.

1977

Moved to Hualien and received baptism to become a Christian and is now an elder in the




church.

1980

Works were recognized as national treasure and withheld at Taoyuan Intemational Airport to




refrain them from exporting.

1982

Works were withheld by Customs in Keelung and he was accused of trafficking national




treasure.

1982

His works were identified by National Palace Museum as national important pieces of




national treasure level.

1982

He has been titled 'Living National Treasure" since then.

1983

Held a huge exhibition of Jiao Zhi Pottery at Taiwan Museum.

1983

He was invited by Taiwan Normal University to give lectures in the seminar for nationwide




art teachers in Taiwan.

1984

Vice president, Hsich Tongmin lead a visit of government officials to him and praise him as




"National Treasure of Man's World"

 1987

Tour exhibitions at nationwide Cultural Centers in Taiwan.

 1989

Master Shi Cheng Yen visited Liu Mingwu in person with several hundred disciples of Tzu




Chi Association.

 1990

Special exhibition at Taipei City Art Museum

 1992

Taiwan's Icader and his first lady visited Liu in person and awarded him an inscribed board




of "Living National Treasure".

 1993

Was invited to preach in Brazil and Paraguay, and held a special exhibition in St. Paul.

 1994

A special exhibition at the capital cathedral in Argentina He was invited to see president




of Argentina and given the title of "Eastem Michelangelo".

 1995

Announced the suc ccess of production of jewel glaze at Taipei International Exhibition of




Ceramics and changed the name of works to "Jewel Pottery".

 1996

Invited by University of California to give a speech of the art of making jewel pottery.




Oversea media gave him a title of Mr. Formosa.

 1999

Completed Taiwan's first masterpiece of Nine-dragon-wall of jewel pottery.

 2001

Started to study on jewel glaze of oil painting on pottery.

 2005

Went to give speeches in American churches and his works were collected by.

 2006

Succeeded in making 'pottery painting and started to stay in exclusion for creating.

 2007

Invited to exhibit at Liu Hai Su Art Museum in Shanghai.

 2007

Invited to have a huge exhibition at China Art Museum in Beijing.

 2009

Taiwan's most beautiful private "Liu MIngwu Art Museum" is established.

 2010

Invited by 2010 Universal Exposition to hold massive individual exhibition at Shanghai Art




Museum.

 2011

Served as General Assessment Chief of Miss Taiwan in Miss Universe selection.

 2012

Represented Taiwan to participate in China-Japan-Korea Culture Ministers'Meeting,in Meeting of




Ministers of Culture of the SCO Member States.

 2013

Concentrated on extracting gem glaze materials,stock enough for creation of two decades.

 2014

Decided to burn gem glaze secret books,making pottery paintings become peerless overweening.

2015

Conducted a unique pioncering work in the whole world,compiling and publishing an exclusively




dedicated hardcover picture album for each piece of works.

 2017

The bid to host the United Nations Renaissance Foundation,the success of the operation,welcomed




the world to join the festivities.

 2020

Recognized as the Chinese World Painting Saint by a Non-Government Oraanization of the United Nations.
Subtle Fragrance
2006
90×120 cm
Gam glaze
Lying asleep on a cozy chair in the aftemoon in late
autumn with mild sunshinc illuminating slantwisc
across the table.
The memory of decadcs cmerging in mind over tea.
Life, passion and poems are building up in silence.
Mother-In-Law
2007
Gam glaze
120×92 cm
The greatness of mother is similar to lake; it is gentle and beautiful in tranquility,
her moisture provides vitality to all beings and her tolerance is without is without constraint.
We used to be poor family and we had nothing in such humble house.
However I was fortunately to have a kind and lovely mother who loves her
children with her own life and she never r raised her vo volume to scold the children.
Water used to leak from our broken hut during rain season, the sun shun
h the holes les,forming oval circles of lights that looked like duck eggs. When
even it rained, Mother would ask us to get wok or metal cans to catch the watcr. Even
under such dilemma, my y mother still smiled and told us: "Don't be depressed, child.
Our house is very special because the rain drops give us sunny duck Cgg."
Beloved mother, you have sacrificed yourself to nurture our life.
Our family of Liu is able to cxpand our generati tion and we shall always keep you in mind.
I love you. Mother
through
The Past in Kyoto
2007
Gam glaze
120x165 cm
Remembering past memories
Recalling a rainbow over clouds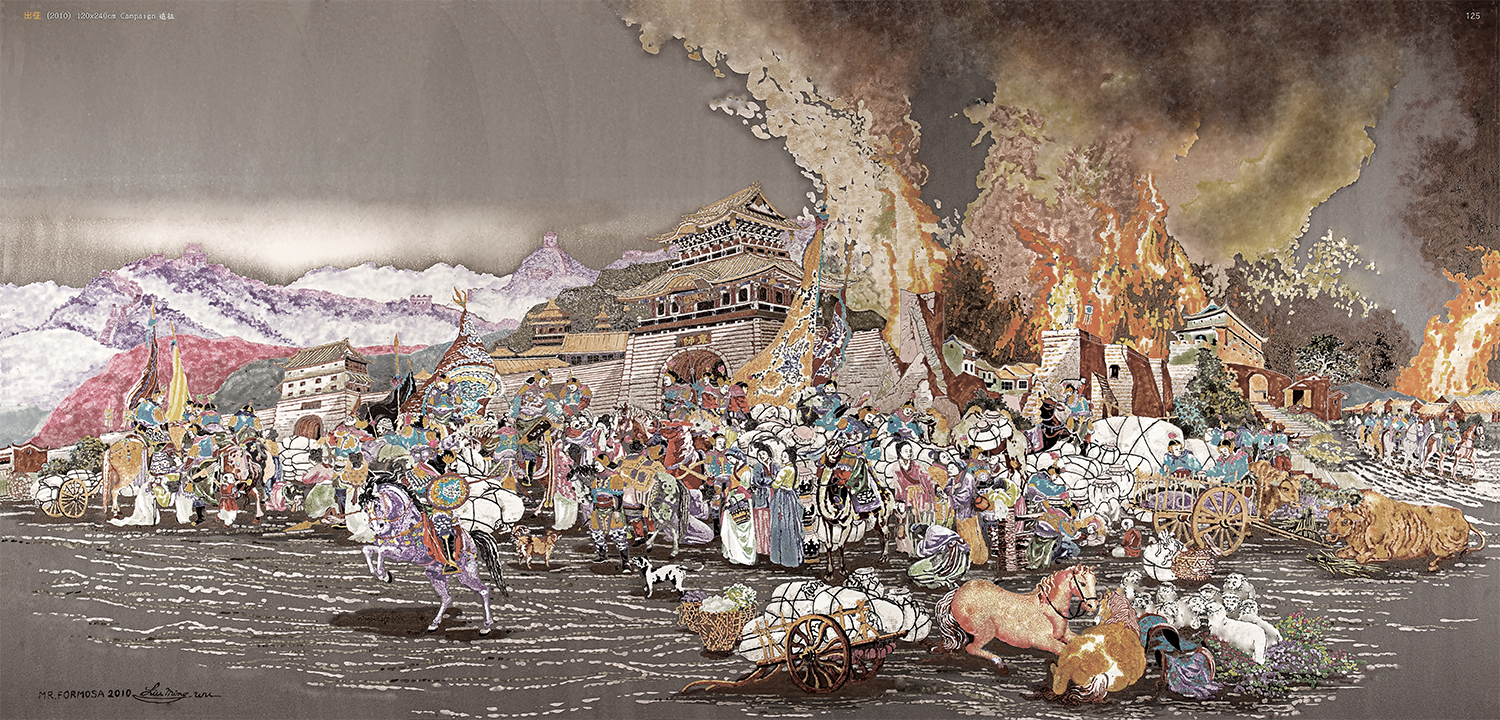 Campaign
2010
Gam glaze
120×240 cm
I never cared what was in fashion or what people pursued,
as it is only a passing trend. Inspiring artistic creation should
make people muse by demonstrating touching Beauty.
Either an aboriginal tattoo or an artistic painting should
express nothing other than pleasure and joy.
The earliest of the Koji pottery (created in 1977), the Cowherd and the Weaver Girl
1977
Koji pottery
28x12x26 cm
In 1982, the work was detained at Keelung Cuastoms along with the same batch of works,
and charged with theft of national treasures, shocking the world.
In the end, the work was identified by the National
Palace Museum as nati tional cu ultural treasure assets.
Koji pottery is a kind of modeling clay made in low temperature with sintering temperature
of 78o degrees
When this work was created, Liu, Ming-Wu was only in his twenties. At that time,
Koji pottery must imitate the ancient times as they were ordered by antique dealers
Life Is Like a Show
2012
Gam glaze
90×120 cm
Life is like a show, show is like life. No matter you came from
which rank such as emperor, king, duke, marquis, general, minister,
earl, viscount, baron, rich people, noble people, ordinary people,
mediocre people, pauper people, poor people, or humble people, in
lifetime you always play a role of Sheng, Dan, Jing, Mo, or Chou,
and you can not decide it at all, so what to care? Why to care?
It is heard that the Creator has his arrangement, and whatever the
role you play, in his script you are the protagonist.
San Francisco Bay
(Cameo painting from the early transition stage)
2003
Cameo painting
43×60 cm
In 1991, the European and American Art Society told me that your pottery
is beautiful, but retains a strong craft component. If you improve from
the aspect of painting, you can reach the highest level of art in the world.
Later, I spent more than ten years studying, even almost bankrupt. Finally,
with the help of a number of scientists, it was sintered successfully.
This work is a cameo painting in the process of transforming a stereoscopic
surface into a flat one.
Misty River of Love
2010
Gam glaze
72×90 cm
The meaning of looking at a painting can not only make beauty tangible
but also create a magic ambiance in one mind.
Foggy riverbanks at night are as beautiful as a poem including a
mystery beyond description.
I am a poet admiring truth, goodness and beauty.
I wish you a more virile life and that your desire lasts forever with this
painting.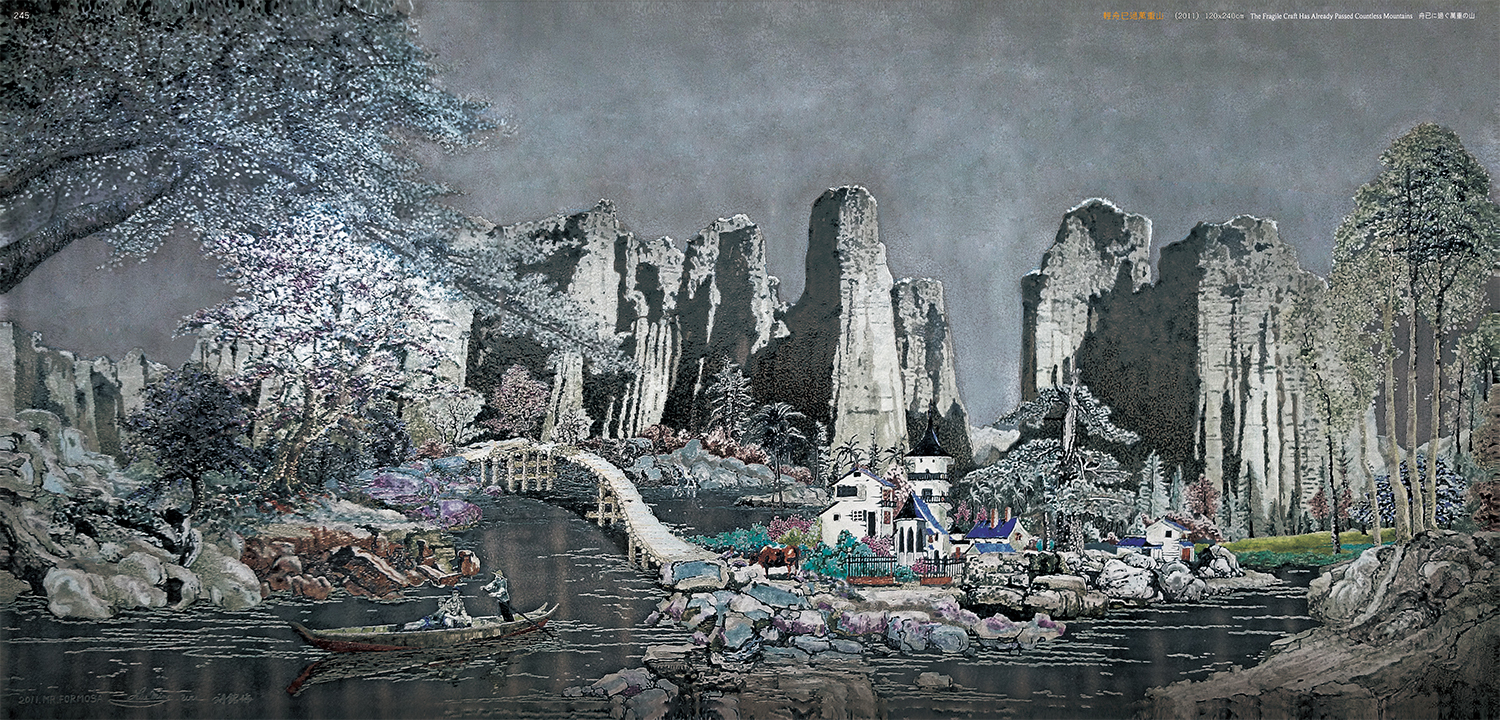 The Fragile Craft Has Already Passed Countless Mountains
2011
Gam glaze
120×240 cm
My glazes were extracted from gem mines, and the secretformula of gem glazes is a result of painstaking R&D andtest through nineteen generations of founders.
And the texture and quality of the pottery painting burnedout with gem glazes is never the same as a general painting.If viewing with an illuminated high-expansion magnifying glass, it will bring you into another universe to feel the sorich colorful world, and the beauty of that realm is hard to imagine unless witnessed.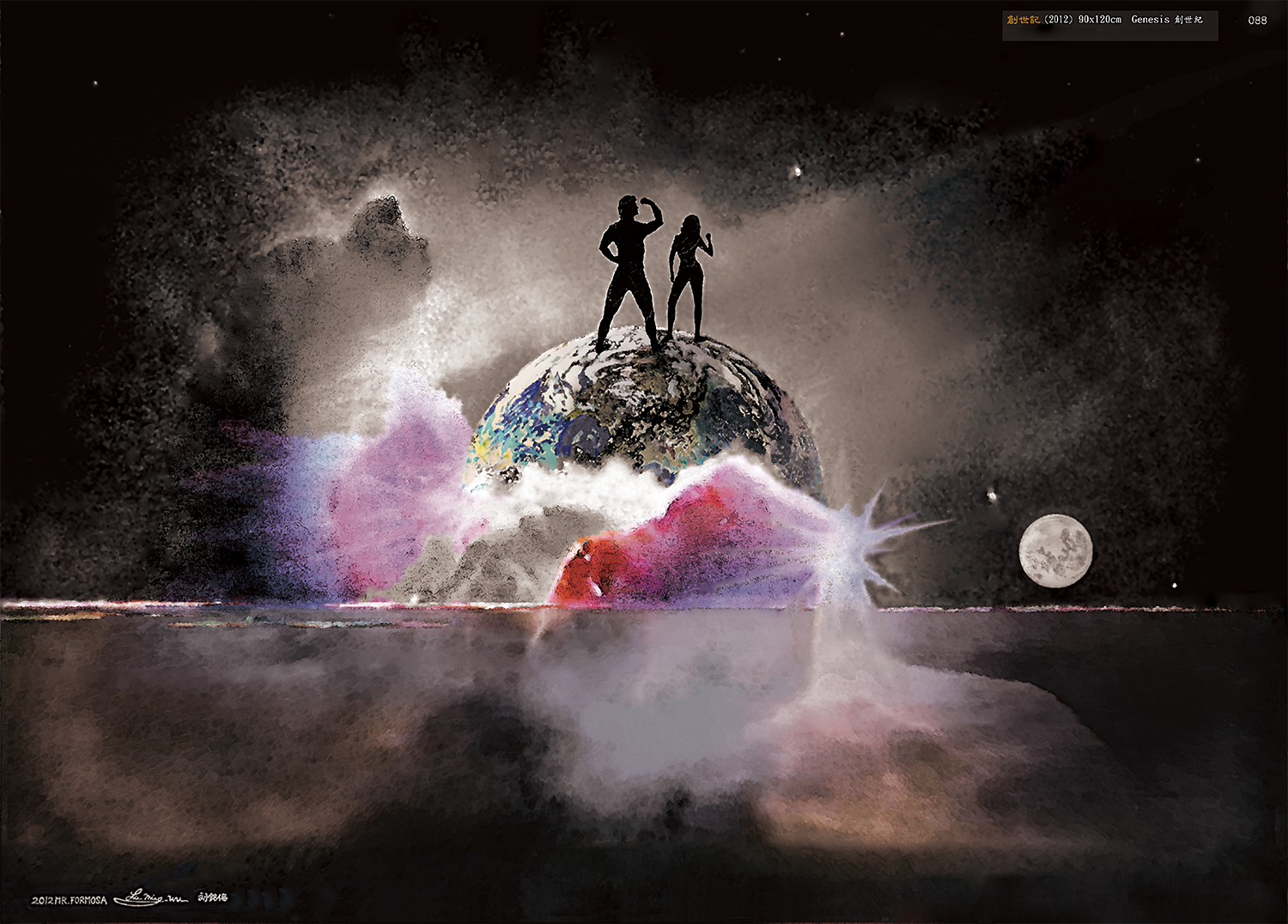 Cenesis
2012
Gam glaze
90×120 cm
Having painstakingly worked for fifty years, this is Liu Ming-Wu's latest creation. The world's most popular arts can be divided into two categories,one is Western oil painting, the other is Oriental pottery art; Liu Ming-Wu has integrated the two as one, that is, the pottery painting baked through using gem glaze, it neither belongs to oil painting nor pottery art.