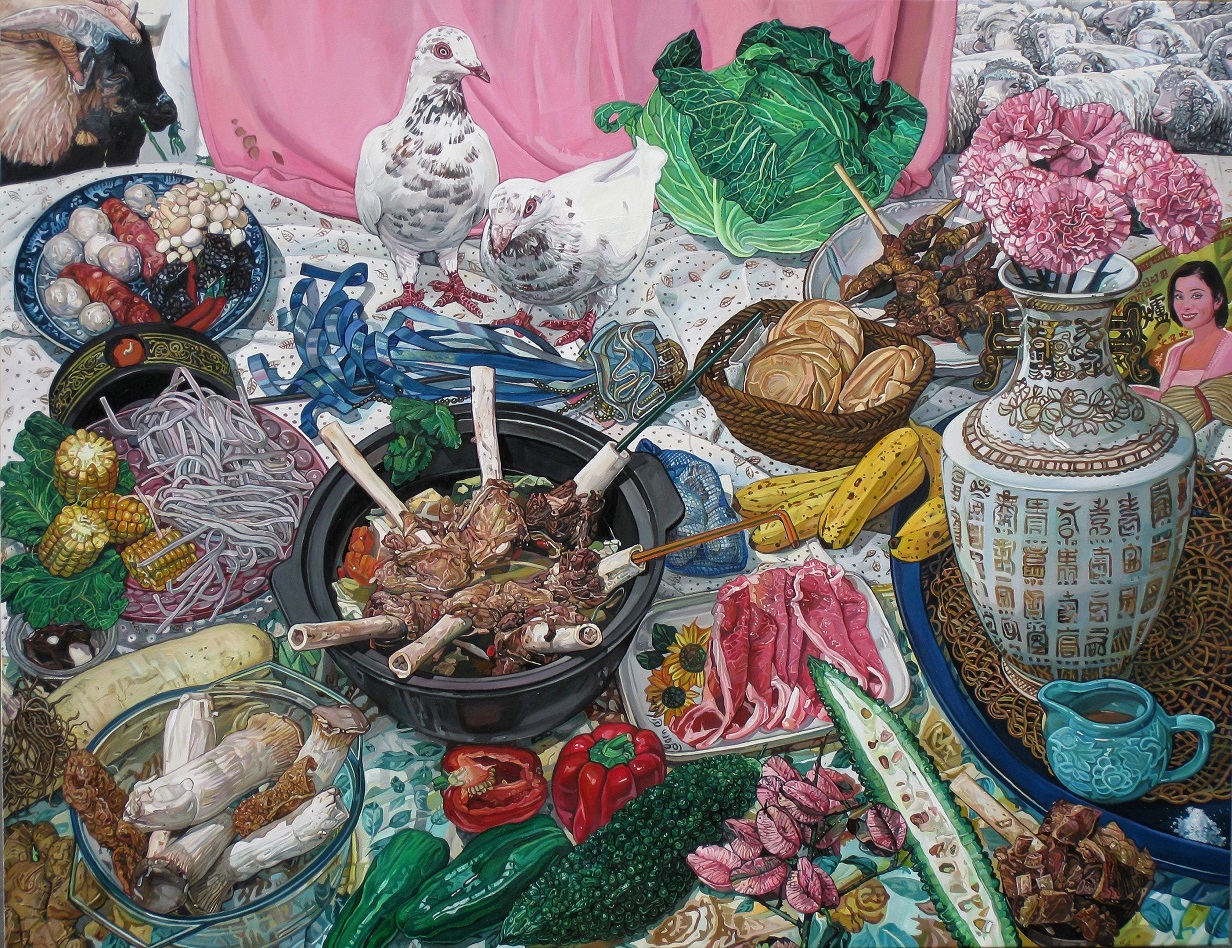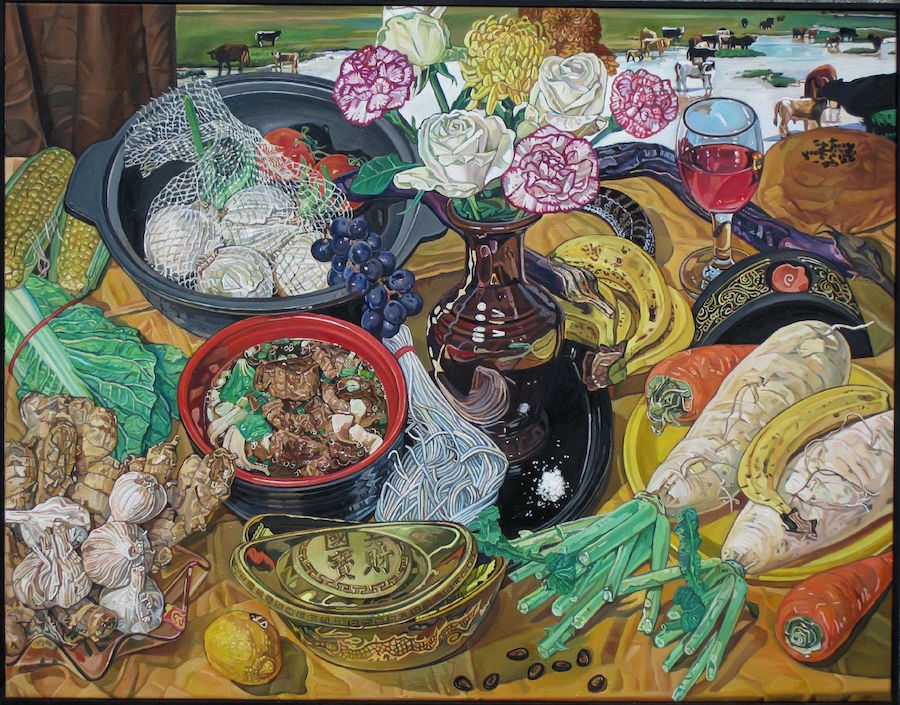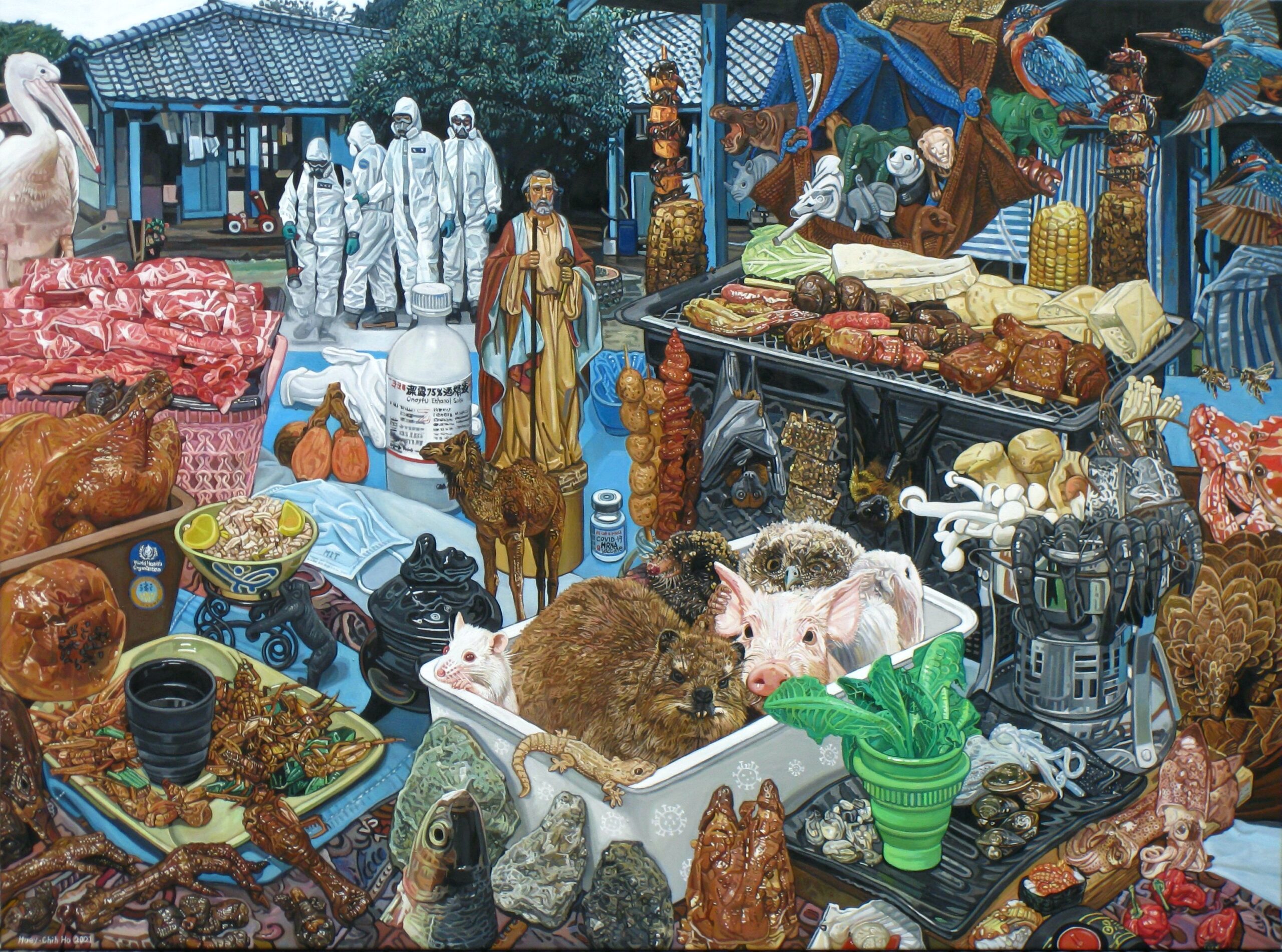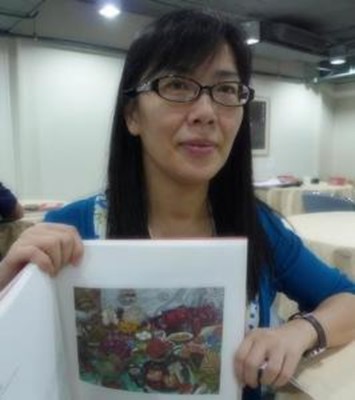 Huey-Chih Ho (1970-)

Huey-Chih Ho was born in Taipei, Taiwan, and studied painting at the Chinese Culture University, graduating in 1993 with a B.F.A. before coming to the United States to continue her studies at the University of Massachusetts Dartmouth (M.F.A., 1997). She was a visiting lecturer at the Massachusetts College of Art (1997-98). Since moving back to her home city, Taipei in 1998, she has taught studio art at eight different community colleges for 15 years and is currently teaching at the Fu Jen Catholic University, National Taiwan Normal University Division of Preparatory Programs for Overseas Chinese Students in Taiwan.
Huey-Chih Ho was awarded the gold prize from the 40th National Oil Painting Exhibition in Taiwan, 2016, the gold prize in oil painting category from National Art Exhibition at the National Taiwan Museum of Fine Arts, 2014, and the first prize from the 17th DA DUN Fine Arts Exhibition in Taiwan, 2012. She is the recipient of three-time grants (2000, 2006, 2013) from National Cultural and Art Foundation in Taiwan and has been awarded residencies to the Sam & Adele Golden Foundation, NY, and the Vermont Studio Center ,VT. She has exhibited in solo shows and group exhibitions in the United State, Taiwan, China, Singapore. Her work is included in private and public collections such as seventeen of her paintings in Art Bank Taiwan ' s Collection, National Taiwan Museum of Fine Arts, CTBC Bank, E.Sun Commercial Bank, Taming Senior High School, Wang Yuan-Lin Culture Art Foundation, Taiwan National Exhibition Committee for Arts, Chung Yuan Christian University Art Center, Ke-Yuan Gallery, New Taipei City Government Sport Office Hsinchuang Gymnasium, and Zhangqihua Culture & Art Foundation. She currently lives and works in New Taipei City.
Education
| | |
| --- | --- |
| 1997 | MFA, University of Massachusetts Dartmouth, MA.,U.S.A |
| 1994 | BFA, Chinese Culture University, Taipei, Taiwan R.O.C |
Experience
| | |
| --- | --- |
| 2006 | Lecturer, HungKuo Delin University of Technology General Education Center, Taiwan |
| 2000 | Art Instructor, PanChiao Community College, Taiwan |
| 2008 | Art Instructor, Hong-Gah Museum Arts Continuing Education, Taiwan |
| 2000 | Art Instructor, Wenshan, Wanhua, Linkou, DaTong, Zhongshan, Sungshan, Ludi Community Colleges, Taiwan |
| 2004 | Art Instructor, Western Painting Societies, Office of the President, Taiwan |
| 2000 | Art Instructor, Western Painting Societies, National ChengChi University, Taiwan |
| 1997 | Visiting Lecturer, Massachusetts College of Art, Massachusetts, U.S.A |
| 1996 | Teaching Assistant, UMass Dartmouth, MA., U.S.A |
| 1996 | Teaching Assistant, Pont-Aven School of Art, France |
Teaching
| | |
| --- | --- |
| 2011-present Lecturer | College of Arts, Fu Jen Catholic University, Taiwan |
| 1998-present Lecturer | National Taiwan Normal University Division of Preparatory Programs for Overseas Chinese Students |
Solo Exhibition
| | |
| --- | --- |
| 2023 | A Common Feast, Dotard Village Gallery, Taipei, Taiwan |
| 2011 | Huey-Chih Ho Light Scribe Feast, King Car Cultural & Art Center, Taipei, Taiwan |
| 2009 | Huey-Chih Ho Glass of Still life Paintings, CYCU Art Center, Chung Li, Taiwan |
| 2008 | The World on a Table – About the Glass of Still life Paintings, Hong-Gah Museum, Taipei, Taiwan |
| 2008 | Huey-Chih Ho Solo Exhibition, Ke-Yuan Gallery, Taichung, Taiwan |
| 2008 | Still Life~Light and Glass, The Taichung City Seaport Art Center, Taichung, Taiwan |
| 2005 | Light and Glass, Pacific Cultural Foundation Art Center, Taipei, Taiwan |
| 2001 | Global Habit~The Drug Addict, Adamas Café Gallery, Taipei, Taiwan |
| 2000 | Global Habit~The Drug Addict, Exhibitions of the Artists' Initiative Works of Art, Pacific Cultural Foundation, Taipei, Taiwan |
| 1998 | Global Habit~The Drug Addict, Christopher Restaurant Gallery, Cambridge, MA, U.S.A |
| 1996 | Painting the Self-portrait, Unity House, UMass Dartmouth, MA, U.S.A |
| | |
| --- | --- |
| 2023 | Vision.Arts Vision, National Taipei University of Technology Arts and Cultural Center, Taipei, Taiwan |
| 2022 | Art Future Art Fair, Dotard Village Gallery (Room 1048), Grand Hyatt, Taipei, Taiwan |
| 2021 | The Contemporary Arts of Taiwan, Taipei Representative Office in Singapore |
| 2020 | From the Island: Mountains Land and Oceans, The Twin Oaks Estate, Washington, D.C., USA |
| 2019 | The Light of The World – Contemporary Arts from Taiwan, Embassy of the Republic of China (Taiwan) to the Holy See |
| 2018 | Taiwan in Full Bloom – Contemporary Arts of Taiwan, ION Art Gallery Level 4, ION Orchard, Singapore |
| 2018 | Made in Paint, 2017 Artists in Residence, The Sam and Adele Golden Gallery at Golden Artist Colors, New Berlin, NY, USA |
| 2017 | Future Allegories: An Exhibition of Taiwanese Contemporary Arts, Taipei Representative Office in Singapore |
| 2016 | Good Idea Festival, Songshan Cultural and Creative Park, Taipei, Taiwan |
| 2015 | Vision & Art II, Good Idea Art Exhibition Spring, Yosifu Art, Taipei, Taiwan |
| 2014 | Collection Exhibition from the CYCU Art Center, Chung Li, Taiwan |
| 2013 | Taichung City DADUN Fine Arts Exchange Exhibition, Zhejiang Art Museum, China |
| 2011 | Art Market, Art Emperor Technology & Culture Co., Ltd., Air Force Officers and Soldiers Activity Center, Taipei, Taiwan |
| 2010 | International Masters Exchange Exhibition, Fine Arts Department of Chinese Culture University, Chiang Kai-shek Memorial Hall, Taipei, Taiwan |
| 2010 | Art Season, De Lin Institute of Technology, New Taipei City, Taiwan |
| | |
| --- | --- |
| 2009 | Huey-Chih Ho and Jun-Haw Chen, LCL Art Space, Mega City Far Eastern Department Store, New Taipei City, Taiwan |
| 2007 | Teachers and Students Art Exhibition, De Lin Institute of Technology, New Taipei City, Taiwan |
| 2006 | Chancellors from Ten Universities Group Exhibitions, Art Season, De Lin Institute of Technology, New Taipei City, Taiwan |
| 2006 | Three Persons Exchange of Diaries from 2D to 3D works Exhibitions, Pacific Cultural Foundation Art Center, Taipei, Taiwan |
| 2004 | The Flaneurs, Hong-Gah Museum, Chew's Culture Foundation, Taipei, Taiwan |
| 2001 | Huey-Chih Ho Teacher and Students Group Shows, Wanhua Community College, ZhongZheng Household Registration Office Art Center, Taipei, Taiwan |
| 2000 | On-Line Group Show of The Millennium Impression Artistic Creation, Tien Cultural Foundation, Taipei, Taiwan |
| 2000 | Year of the Dragon in the New Millennium, Art Market on Holiday at China Times Square, Taipei, Taiwan |
| 1998 | The 1st Competition Show of the Artist in Residency Program for Stock 20 in Taichung Railway Station, Art Network of The Railway Warehouses, Taichung, Taiwan |
| 1997 | Two Persons Show, AAMARP Gallery, Northeastern University, MA., U.S.A |
| 1996 | Self-Portrait, University of Massachusetts Dartmouth Gallery, MA., U.S.A |
| 1995 | Self-Portrait, Gallery 244, New Bedford, MA., U.S.A |
Residency Fellowships
| | |
| --- | --- |
| 2017 | Sam and Adele Golden Foundation for the Arts, Artist Residency, August – September, NY, U.S.A |
| 2013 | Vermont Studio Center Fellowship Award, The 4-week Residency, July – August, VT, U.S.A |
Grants
| | |
| --- | --- |
| 2013 | 102-2 Fine Art Creation Grant, National Culture and Arts Foundation, Taiwan |
| 2006 | 95-2 Fine Art Creation Grant, National Culture and Arts Foundation, Taiwan |
| 2000 | 89-1 Fine Art Exhibition Grant, National Culture and Arts Foundation, Taiwan |
| 1996 | Special Scholarship from the Unity House at UMass Dartmouth towards the Pont-Aven School Program, France |
| 1994 | Clement Yeager Scholarship, UMass Dartmouth Graduate Program, MA.,U.S.A |
| | |
| --- | --- |
| 2021 | Second Place, National Oil Painting Competition, Wang Yuan Lin Culture Art Foundation, Kaohsiung, Taiwan |
| 2019 | Jury Prize, The 43rd National Oil Painting Exhibition, Taipei, Taiwan |
| 2018 | Third Place, National Oil Painting Competition, Wang Yuan Lin Culture Art Foundation, Kaohsiung, Taiwan |
| 2018 | The Gold Medallion Award, The 66th Year Nan-Pu Art Exhibition, Kaohsiung, Taiwan |
| 2017 | Second Place, National Oil Painting Competition, Wang Yuan Lin Culture Art Foundation, Kaohsiung, Taiwan |
| 2017 | First Prize, STAEDTLER Taiwan Art Competition, Taipei, Taiwan |
| 2017 | The Excellent Selection Award, Taiwan National Exhibition Committee for Arts, Kaohsiung, Taiwan |
| 2017 | Award of Merit, The 41st National Oil Painting Exhibition, Taipei, Taiwan |
| 2017 | Selected Works in Oil Painting Category, The 18th Changhua County Huang Si Art Exhibition, Cultural Affairs Bureau Changhua County, Taiwan |
| 2016 | Gold Prize, The 40th National Oil Painting Exhibition, Taipei, Taiwan |
| 2016 | Award of Merit, National Oil Painting Competition, Wang Yuan Lin Culture Art Foundation, Kaohsiung, Taiwan |
| 2016 | Award of Merit, Keelung Art Exhibition, Keelung City Cultural Affairs Bureau, Keelung, Taiwan |
| 2016 | The Third Prize in Oil Painting Category, Miaoli Art Exhibition, International Culture and Tourism Bureau, Taiwan |
| 2016 | Selected Works, Yilan Art Exhibition, Cultural Affairs Bureau Yilan County, Taiwan |
| 2015 | Selected Works, National Art Exhibition, ROC, National Taiwan Museum of Fine Arts, Taichung, Taiwan |
| 2014 | Gold Prize in Oil Painting Category, National Art Exhibition, ROC, National Taiwan Museum of Fine Arts, Taichung, Taiwan |
| 2014 | Award of Merit, The 38th National Oil Painting Exhibition, Taipei, Taiwan |
| 2013 | Award for Excellence, Miaoli Art Exhibition, International Culture and Tourism Bureau, Miaoli County, Taiwan |
| 2013 | Selected Works, National Art Exhibition, ROC, National Taiwan Museum of Fine Arts, Taichung, Taiwan |
| 2012 | Award of Merit, Artists Paint Yushan Mountains, E. Sun Bank 20, Taipei, Taiwan |
| 2012 | First Prize, Oil Painting, The 17th DA DUN Fine Arts Exhibition of Taichung, Taiwan |
| | |
| --- | --- |
| 2012 | Award of Merit, Oil Painting, DEPO Art Exhibition, Changhua County, Taiwan |
| 2011 | The Special Selection Collection Award, Taiwan National Exhibition Committee for Arts, Kaohsiung, Taiwan |
| 2011 | Bronze Medal, Oil Painting, The 74th Tai-Yang Art Exhibition, Taipei, Taiwan |
| 2010 | Honorable Mention, Nan Ying Biennial Oil Painting, Tainan, Taiwan |
| 2010 | Second Prize, Fifth National Hospice Painting Competition, Social Groups, Zhangqihua Culture & Art Foundation, Kaohsiung, Taiwan |
| 2010 | Award of Merit, The 34th National Oil Painting Exhibition, Taipei, Taiwan |
| 2010 | Bronze Medal, Oil Painting, The 73rd Tai-Yang Art Exhibition, Taipei, Taiwan |
| 2010 | Honorable Mention, Oil Painting, Kaohsiung Awards, Kaohsiung Museum of Fine Arts, Taiwan |
| 2009 | Bronze Medal, The 33rd National Oil Painting Exhibition, Taipei, Taiwan |
| 2009 | Finalist, International Art Competition, X-Power Gallery, Taipei, Taiwan |
| 2007 | The Special Selection Collection Award, The 10th Traveler Artist, Traveler Magazine Spring & Summer, No.11, Taiwan |
| 2006 | Art Kudos International Juried Art Competition & Exhibition, U.S.A |
| 2006 | The Excellent Selection Award, Taiwan National Exhibition Committee for Arts, Kaohsiung, Taiwan |
| 2006 | Chosen Prize, Kaohsiung Awards and The 23rd Kaohsiung Fine Arts Exhibition Kaohsiung Museum of Fine Arts, Taiwan |
| 2005 | Chosen Prize, Oil Painting, The Art Exhibition of Taipei County, Taiwan |
| 2005 | Chosen Prize, Art Competition, DEPO Education Foundation, Changhua, Taiwan |
| 2001 | The Third Place, Art Competition, The Hsinchuang Stadium Taipei County, Taiwan |
| 2001 | Chosen Prize, The Nanying Awards & 15th Nanying Exhibition, Tainan, Taiwan |
| 2000 | Chosen Prize, Exhibitions of the Artists' Initiative Works of Art 2000, Pacific Cultural Foundation, Taipei, Taiwan |
| 2000 | Chosen Prize, Ministry of Education Literary and Artistic Creation Prize, National Taiwan Arts Education Institute, Taipei, Taiwan |
| 1999 | Chosen Prize, The 62nd Tai-Yang Art Exhibition, Taipei, Taiwan |
| 1996 | Summer Issue, Manhattan Arts International Magazine (Showcase Award), U.S.A |
Mutton Hot Pot and Gangzitou
2012
Oil on Canvas
112cm x 145.5cm (80F)