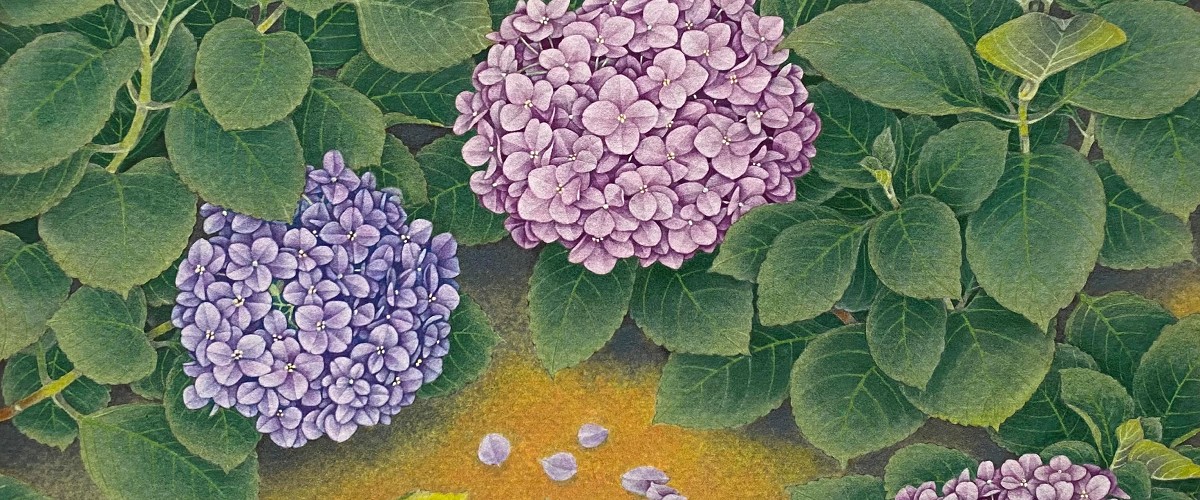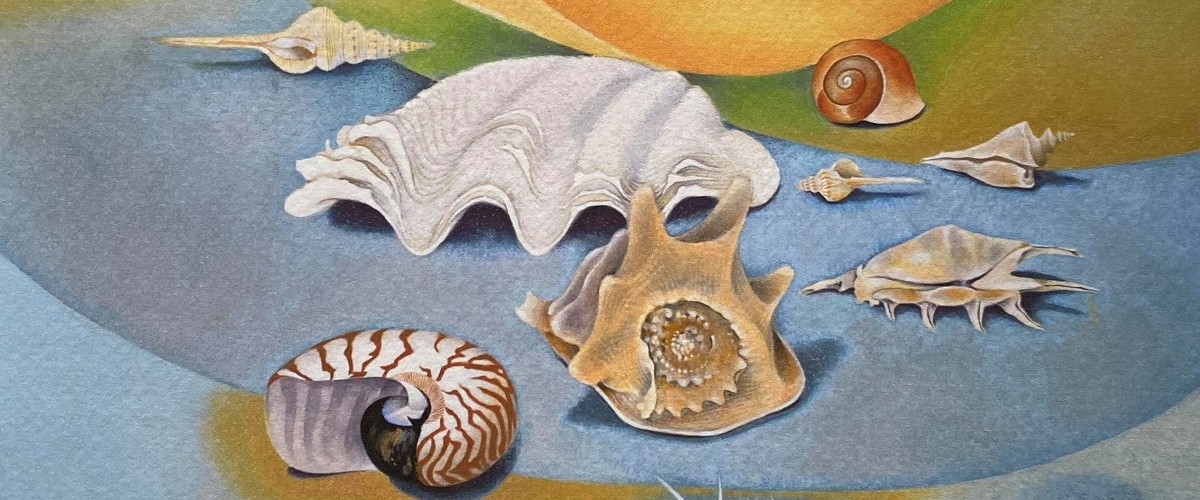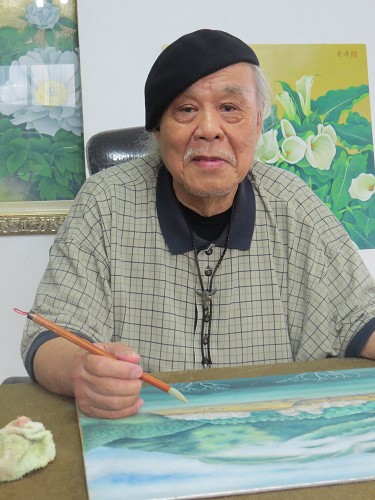 CHEN DING-YANG(1935- )
Born in 1935 in Taipei.
Studied under Xuehu Guo in 1950 and became his only disciple.
TITLES
1. Taiwan Province Art Exhibition Evaluation Committee
2. National Taiwan Museum of Fine Arts Exhibit, Exhibits Evaluation Committee
3. Kaohsiung Museum of Fine Arts Collection Committee
4. Kaohsiung City Art Exhibition Evaluation Committee
5. Miaoli County Art Exhibition Evaluation Committee
6. Taiwan Glue Painting Association Evaluation Committee
7. Greenwater Gouache Society Evaluation Committee

CHRONOLOGY
| | |
| --- | --- |
| 1947 | Graduated from Rixin Elementary School in Taipei. |
| 1950 | Graduated from Kainan Vocational High School. |
| 1951 | Studied with teacher Guo Xuehu. |
| 1951 | The paintings, "Eggplant" and "Hot Summer Garden" were selected in the 6th Taiwan Province Art Exhibition at age 16. |
| 1955 | The painting "Lily" was awarded as the first place in the category of Chinese Painting In the 18th Taiyang Art Exhibition. |
| 1955 | The painting "A Corner of the Museum" was awarded as the first place in the category of Chinese Painting In the 10th Taiwan Province Art Exhibition. |
| 1960 | Joined "Qingyun Painting Society". |
| 1965 | An innovation artwork creation, the painting "Shells" |
| 1966 | An innovation artwork creation, " The shadow of Museum". |
| 1982 | Participated the first Taiwan Glue Color Painting Exhibition with the painting "Mountain Road". |
| 1991 | Became the member of Taiwan Greenwater Gouache Society in 1991, and began to participate in the promotion of Taiwan's glue color paintings. |
BRIEF BIOGRAPHY
Dingyang Chen, an aspiring artist and his unwavering passion for painting.
Dingyang Chen(1935~)was born in Taipei near the Railway Rear Station, known locally as the Twatutia or Dadaocheng area.
When Dingyang Chen finished elementary school in 1947, all he wanted to do was paint. When his parents mistakenly thought mechanical drawing was painting, they encouraged him to apply for Mechanical Engineering at Kainan Vocational School. Not knowing what he was getting into, Dingyang Chen applied and passed the entrance exam.
After school started, Dingyang Chen realized his classes had nothing to do with sketching, water coloring, oil painting, etc. Nevertheless, he still found interests in mechanical drawing.
Drawing the machine parts and components from all different angles , Dingyang Chen learned the art of keen observation and the importance of considering all different drawing perspectives when working from a chosen angle.
Whenever Dingyang Chen completed a drawing, his teacher Mr. Wong would complement him, But would also say, "Dingyang, your drawing is exquisite and best in your class, but there is not enough precision. It's unlikely that a machine can be built from your drawings. You should be a painter!" Dingyang Chen just smiled to that comment. He was indeed treating the drawings as his artwork.
He graduated from Kainan Vocational School in 1950. After working briefly as a land surveyor, Dingyang Chen was more determined than ever about his future career. He put down Painter as the occupation on his ID Card to show his determination.
With all his resolution, Dingyang Chen paid very close attention to everything around him. He claimed that "every flower petal holds its own looks". With this sharp observation, he completed many gouache paintings of flowers and birds.
The paintings 'Birds Twitter and Flower Fragrances' ( 2001) and 'Flowers of the Desert' ( 2000) were Dingyang Chen's masterworks. In these paintings, we not only see his objective study of the natural beauty of flowers, we also feel his energy and passion for life. The paintings also reveal the image of a resolute Taiwanese gouache painter.
SOLO EXHIBITIONS
| | |
| --- | --- |
| 2015 | Chen Dingyang " Words of Flowers and Paintings" Glue Color Painting Exhibition at Hsin Chuang Landmark Hotel Art Gallery in New Taipei City. |
JOINT EXHIBITIONS
| | |
| --- | --- |
| 2007 | The 25th Taiwan Glue Color Painting Exhibition by Taiwan Glue Painting Association at Cultural Affairs Bureau in Taichung. |
| 2010 | Jiao Cai Danqing five persons joint exhibition at Kuo Mu Sheng Foundation in Taipei. Exhibition members: Liu Genggu, Chen Dingyang, Lai Tianyun, Zhang Ruirong and Liu Lingli. |
| 2013 | The 31st Taiwan Glue Color Painting Exhibition by Taiwan Glue Painting Association at Taichung City Seaport Art Center in Taichung. |
| 2016 | Good Idea Art Festival ~ Visions & Art Visions III Rivers / Asia / Cosmic Light in Taipei. |