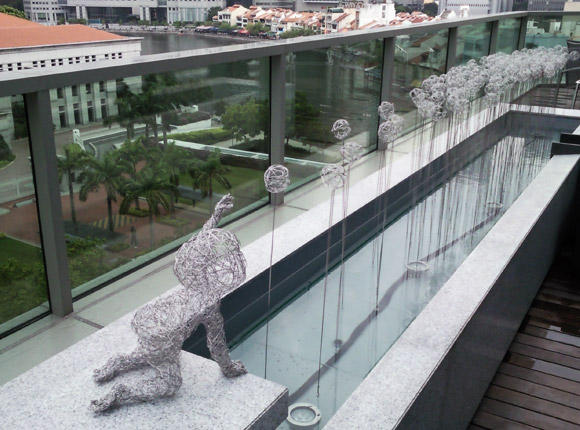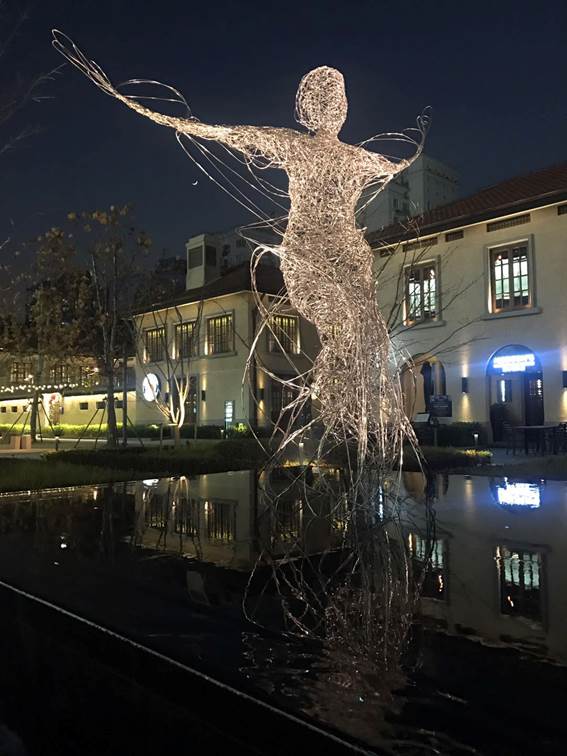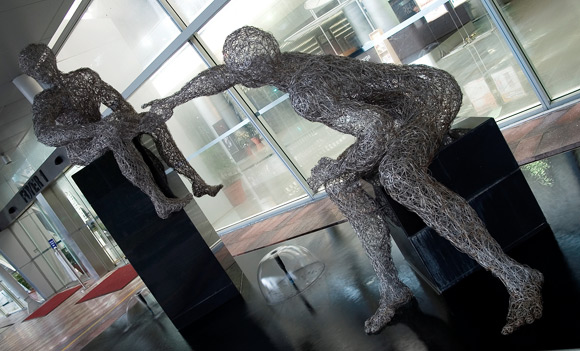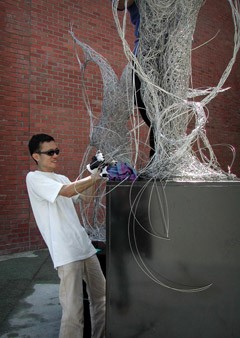 Victor Tan(1969-)
Experience
| | |
| --- | --- |
| 1995 | LaSalle-SIA College of the Arts, Singapore Diploma in Fine Arts (Ceramics) |
| 1997 | Royal Melbourne Institute of Technology, Australia Bachelor of Arts in Fine Arts (Sculpture) |
Exhibition

| | |
| --- | --- |
| 2002 | Between 2 and 3/ Gallery Everson Hotel  |
| 2005 | Dawn |
| 2006 | Moment to Moment of Mindfulness |
| 2007 | Spotlight Singapore – City. Living/ The Fringe Club |
| 2008 | As it is… |
| 2011 | Seeing, feeling, being: Alberto Giacometti  |
| 2013 | The Empty Room |
| 2019 | The Head" |
| 2020 |  Love (Hold, Carry and Hug)  |
| 2021 |  Between 2 and 3/ Gallery Everson Hotel    |
Awards
| | |
| --- | --- |
| 1997 |  Scholarship, Goodwood Park Hotel |
| 1999 |  The Commonwealth Arts & Crafts Award, leading to a 6 month residency in London, United Kingdom |
Dancers In The Wind – Pas de Deux
2002
Temasek Junior College
The series Dancers in the Wind capture the movements of air over a dancer's outstretched arms, a posture that Victor sometimes adopts in his studio when a cool breeze wafts through. Then newly attached and taking dancing lessons, Victor recreates the happy experience of dancing in a pair in Pas de Deux. The two figures stand in close juxtaposition, glancing obliquely at each other and suggesting interactivity and partnership. Victor remembers his experiences in art school, where interactions between teachers and students, invited speakers and students, and between students and students themselves have been instrumental in the process of artistic learning and creation. The process of dancing is itself a celebration of life and art; dancing as a couple requires a deeper involvement – a special awareness of one's partner, coordinating individual movements to form a whole that is greater than the sum of its parts. The uplifted arms of the Dancers twirl in joyous freedom, as the wings of angels engaged in heavenly exultation.
Okay
1999 Singapore Expo
Victor experimented with various poses to make a dramatic pageant where five human figures represented the fingers of a hand making the 'OK' sign. This work had its strength not in the story that he has enacted, but in the construction of an energetic visual piece with playful connotations. This sculpture was commissioned through Art 2, even before Victor graduated from his RMIT course.
The Four Way Test
2003
The Singapore Botanic Gardens
In the sculpture, a man holds a big bucket of clear water and pours it down to a child who is reaching out with a bowl to contain the water, but allowing some of the water to continue to flow down to the earth.
The big bucket depicts the richness and the abundance of wealth that can be derived from the simple knowledge of the 4-way test. This knowledge is like water, which is vital to the survival of all life forms on earth. The clearness of the water suggest that a clear understanding of this vital knowledge will bring about the well-being and prosperity of future generations, as represented by the child. This knowledge continues to flow down to reach the greater mass to benefit all beings. The natural interdependency of all beings allows this continuity to flow on and on.