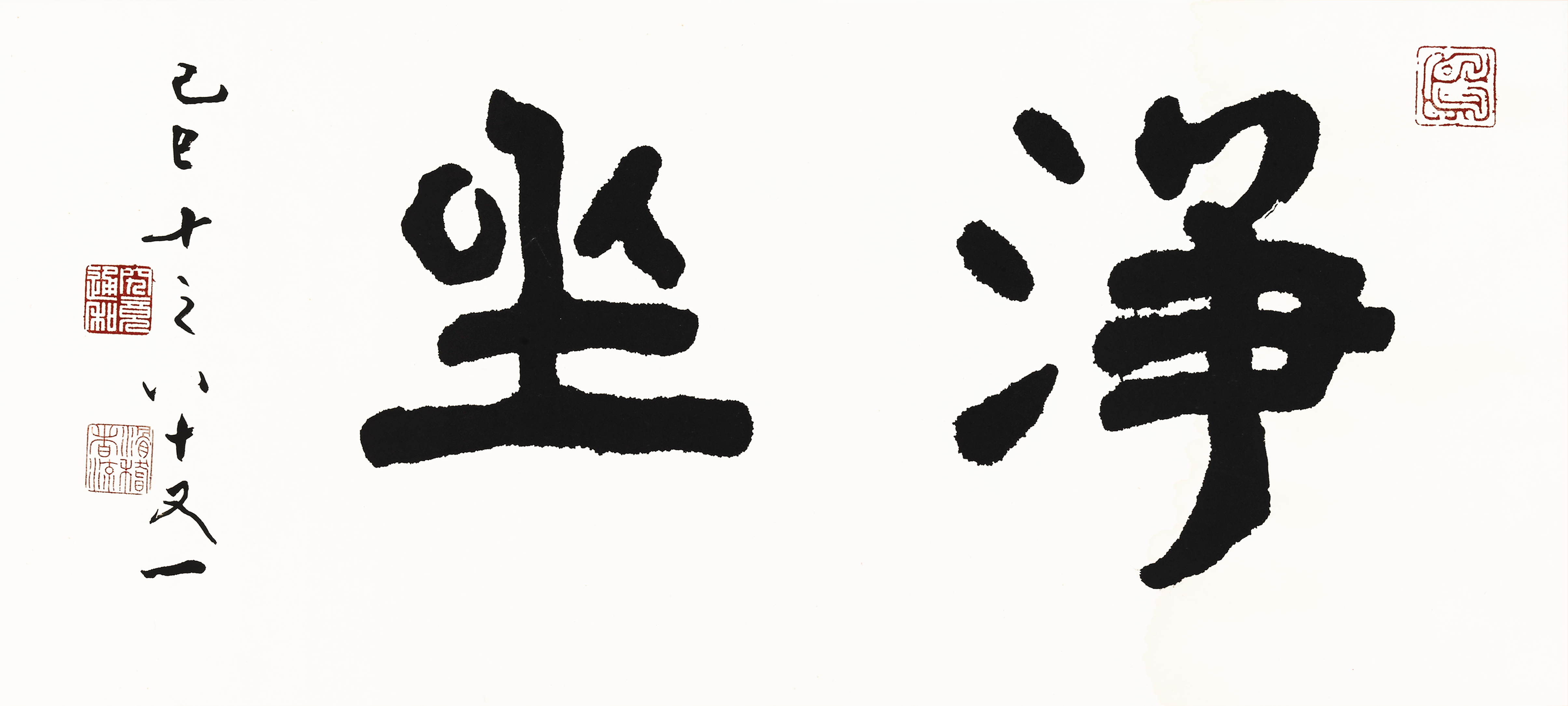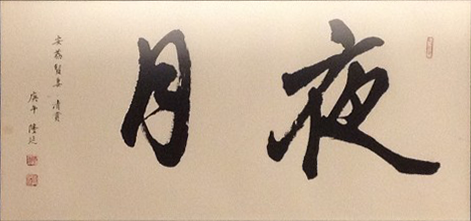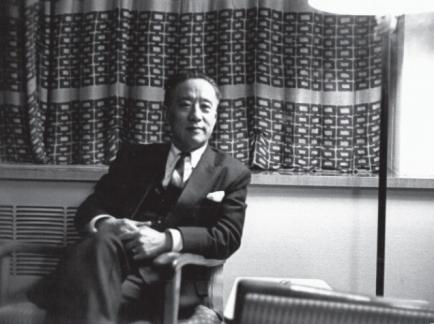 CHANG LUNG-YEN (1909-)
A renowned contemporary calligrapher, he served as a government diplomat and president of the Taiwan College of Fine Arts (now the National Taiwan University of Arts) in his earlier years, and thus earned the title of "Calligrapher President". After which, he served as the head of the Department of Fine Arts and the Director of the Institute of Fine Arts at the Chinese Culture University.
Inspired by the famous calligrapher Li Ruiqing of the late Qing Dynasty and early Republican period, Chang Lung-Yen's calligraphic style combines simplicity and strength, characterized by numerous vertical and elongated strokes, and is capable of calligraphing more than 70 types of characters, including oracle bones and bronzes inscriptions. According to Huang Guang-Nan, the former director of the Taiwan Museum of History, Chang Lung-Yen "studied the history of Chinese literature, philology and calligraphy from Hu Xiaoshi when he was young, starting with the Han stele clerical script and studying all kinds of stele and all kinds of styles; after his middle age, he devoted himself to the Han and Jin wooden scribes and further acquired knowledge. Since then, he has been able to appreciate the Song dynasty's postal calligraphy. His imitation of Huang Tingjian can be described as luxuriant and magnificent, while his calligraphy of Mi Fu's works has been described with a "dynamic atmosphere" as in Du Fu's poem. He also stated that Chang Lung-Yen led a diligent and continuous pursuit of studies throughout his life, often claiming him "still loving calligraphy at old age", where his later calligraphy style is characterized as demonstrating strength, entering the a state of "synonymous maturity with calligraphy".
He has taught the history of calligraphy both domestically and internationally, where he has gained a wealth of students. He was a mentor of Fu Shen, and Liu Guosong's paintings were also deeply influenced by him. Fu Shen remarked: "My master's composure, scholastic works, and lines of seal and clerical script reveal the full extent of his mastery, as reflected in his calligraphy." His calligraphy, artistic and literary skills are deeply rooted in his rich education.
He has imitated numerous contemporary and masters in the past and has been practicing calligraphy for over seventy years, yet he does not undertake exhibitions lightly. Having lived in New York for nearly thirty years, Chang Lung-Yen's name may seem unfamiliar in Taiwan. However, in his early years, he was an active figure in the administrative system of our country, international diplomatic circles, and cultural, educational, and artistic circles, with a doctorate in law and a permanent member of the Swiss International Academy of Arts and Letters. Despite the fact that he had been a major official and had money and power at his fingertips, he remained "a courtier with a heart like water," a man of literature, and a rare example of his life in these troubled times.
Source: Baidu Encyclopedia & Chinese Calligraphy Society
Chronological Table
| | |
| --- | --- |
| 1909 | Born in Nanjing in his ancestral home in Guijing, Sixiangqiao. His original name was Lung-Yen (龍炎). After he returned to Nanjing from his studies, he changed his name to Lung-Yen (隆延), and became known as Shi Zhi and Lei Wong. |
| 1911 | When he was two years old, his family moved to Shanghai. |
| 1914 | On November 17, his father, Mr. Jin Quan, passed away. His loving mother, Mrs. Fu, moves the bier to his old home in Nanjing to raise the child. |
| 1920 | Enrolled in the Nanjing Fourth Normal Affiliated Primary School. |
| 1923 | Study incomplete in Southeast University Experimental Middle School. |
| 1925 | Enrolled in Jinling Middle School. |
| 1926 | Graduated from Jinling Middle School and enrolled in Jinling University Preparatory Course. |
| 1927 | Enrolled in Shanghai Guanghua University as a freshman. |
| 1928 | Returned from Shanghai to Nanjing and enrolled in the Department of Political Science at Jinling University, where he studied the history of Chinese literature and ancient and modern poetries with Mr. Hu Xiaoshi (Guangwei), the head of the Department of Chinese Literature. |
| 1929 | Recommended by his classmate Gao Wen, he secretly joined the Kuomintang in Nanjing and received the party certificate "Clerical Staff Sergeant CHANG LUNG-YEN". |
| 1931 | Graduated as the top of the political science department of Jinling University; elected as a member of the "Chinese Fetau Fei Society" and received an honorary lifetime golden key. |
| 1932 | Arrived in France by ship from Shanghai for 31 days, and entered the Université Nancy. |
| 1936 | Received a doctorate degree in law from Université Nancy. In September, he was appointed as the professor of constitutional law and general legal theory at Jinling University, and political instructor at the Nanjing Higher Police Academy. |
| 1938 | From Chongqing, he went to Berlin to work in the German Embassy. |
| 1939 | Entered the Universität Berlin Law School; Karl Kaulhaush, a leading authority in criminal law, invited him to join the Institute. |
| 1941 | Left Berlin on July 11 and joined Belli College in September for research on the principles of legislation. |
| 1943 | Studied jurisprudence at Harvard Law School under R. Pound. |
| 1946 | Arrived in New York in April and served as a Senior Commissioner of the United Nations Secretariat. |
| 1953 | In August, he left the United Nations. Then he arrived at Taipei and was summoned by President Chiang Kai-shek and then assigned as a member of the Political and Legal Affairs Committee of the Central Committee of the Kuomintang. In November, he was transferred to the first class of the Party, Government, and Military Joint Warfare Study Course at the Institute of Revolutionary Practices in Yangmingshan and graduated with the first place. |
| 1955 | Published a monograph, "The Way of Calligraphy", in the second volume of Chinese Cultural Studies, and "Studies on Su Shi" in the middle volume of Chinese Literary History. |
| 1957 | He was appointed by Minister of Education Zhang Qi-Yun to serve as president of the National Academy of Fine Arts. |
| 1959 | Appointed by the Executive Yuan as the seventh member of the Joint Management Committee of the National Central Museums. Twelve articles on "Art Appreciation" were published in the magazine "Wen Xing" and were regarded as classics by young artists. |
| 1962 | Particiapted in Asian Education Council in New Delhi, India, and was elected as the first committee chairperson. Elected as a permanent member of the International Art Society of Geneva, Switzerland, and appointed as a member of the Military Education Committee of the Ministry of National Defense. |
| 1966 | Published a full-length paper on "The Beauty of Calligraphy" in the Journal of Fine Arts of the same year. In February, the Ministry of Education sent him as an expert to attend the Tokyo International Conference on Art Education. In October, he went to Paris as the deputy representative of the permanent delegation of the Republic of China to the United Nations Educational, Scientific and Cultural Organization (UNESCO). |
| 1971 | His work La Calligraphie Chinoise: Un Art a Quattre Dimensions, Le Club Francais du Livre was published in Paris. On December 25, the government announces its withdrawal from the United Nations. He then left Paris and returned to New York. |
| 1977 | In April, he was invited by Yale University to participate in an international symposium on Chinese calligraphy, and presented a paper The Influence of Chinese Calligraphy on Modern Painting. |
| 1978 | Appointed by the National Endowment for the Humanities (NEH) in Washington, D.C. as a jury member and advisor. Awarded the title of "Visiting Professor of Excellence" by St. John's University. |
| 1984 | Appointed by the Cultural Construction Commission of the Executive Yuan to present a paper at the International Symposium on Chinese Calligraphy to Commemorate the Passing of Yan Zhenqing for 1200 Years. He was also the chairman of the first session. |
| 1990 | Retired from the faculty of St. John's University. Since then, he has remained at home. |
| 1991 | Co-authored Four Thousand Years of Chinese Calligraphy with Professor Millet, published by the University of Chicago. |
| 1994 | Completed manuscript of "Discussions on Seal Script", unpublished. |
| 1996 | Completed manuscript of "Discussions on Clerical Script", unpublished. |
| 1999 | National Museum of History exhibits "Chang Lung-Yen Calligraphy 90th Retrospective". |
| 2005 | Moved back to the U.S. in May because he could not adapt to the weather in Taiwan. Sponsored by the Taipei Foundation, director Ko Ching-wei begins filming the documentary "Chiseled Chaos". |
| 2006 | He fainted due to a slow heartbeat and was sent to the hospital for a cardiac pacemaker. |
| 2009 | At 1:00 a.m. on May 1, he passed away at the age of 101 at New York Hospital Queensboro. The documentary film "Chiseled Chaos" also wrapped up in May. |
With absence of people at the court, the moon emerges on top of cloudy mountain across the gate.
Ink paintings、Paper
175.5x33cm